The Wait
This holiday, I've spent tons of time
waiting
.
Waiting for my tuition class to start.
Waiting for my tuition class to be over.
Waiting for my ride to come.
Waiting for the next One Tree Hill episode.
Now you must be wondering. How come Jess have to wait for her tuition class to start?? Don't most poeple just get changed, sit in front of the television surfing every single channel, and won't leave until you can make sure that the minute you step into the class teacher will start teaching so you wont have to look like the idiot who goes there even 10minutes before the class begin plus still manage to catch a few minutes of your favourite
wah lai toi
drama series before attending class?
*
phew
* Wow. That is such a detailed description on what I used to do before tuition.
Unfortunately, we aren't allowed to do so anymore after we enter form6. Remember how I told you about the kiasu-ness spirit that is flying high among the form sixers? It only grows stronger as time past. For example, I attend this tuition class in KL. Mr X is a very well known X subject teacher in the Klang Valley and some say Penang too. He gives about 12 classes a week with an average of 150 students each class.
We were told by our seniors to reach there at least half an hour earlier or else there wont be any seats left for us. So, we would usually depend on Malaysia's (not so dependable) public transportation to bring us there straight after school. Mr X tuition centre has specially prepared this 'waiting room' for us. Our aim everytime there was to be as close to the door of the class as possible in that 'waiting room' just as the last class leaves SO WE CAN RUN IN AND GRAB THE BEST SEAT POSSIBLE BEFORE THE BYATCH IN FRONT OF YOU PLACE HER BOOKS DOWN ON THE TABLE CLAIMING THAT ITS HERS NOW.
It's tough work, having to beat extreamly fierce kiasu competition.
HOWEVER, this holiday, things took an
even worst
turn. When the kiasu-ness attacks, people realise they can be there
EVEN EARLIER
without school.
This is a sample of the class plan.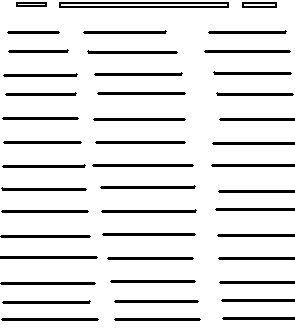 The two small rectangular thingy are the doors for the class. The longer one is the blackboard. And the long black lines are the tables in the class. There are all suppose to be of the same lengh but too lazy to draw so nice lah..
The scenario last Thursday. We arrived there at 12 noon when the class was suppose to start at 1 pm. When we enter the class.....
Stupid kiasu people... Got no life is it?!!
I'm already one freaking hour earlier you know!
For Jess it's a damn great achievement that deserve at least a noble prize of some sort!
Anyway, disappointed, I chose to sit in front on the side while some of my friends chose the back seats because they say they couldnt see from where I chose to sit. And its pretty true.
At 1pm...
5 minutes later....
Those tiny black dots are suppose to be people. I'm the violet colour dot while my friends are the pink ones. And as you can see, even the teacher doesn't have anymore place to move around. Although you see little white spaces in my oh so beautiful drawing, reality, we have no space around at all to spare. And there were still over 10 people outside wanting to attend the class. Poor us. I wonder if someone farted continuously in the middle of the class will we be able to walk out of the class alive with our noses still attached.
So me and my other friend decided to just retrieve our bus fare from Mr X and come back another day. We came back Thursday. This time WAY earlier. We were there 11am when the class only starts at 1pm. We thought we would be the earlier ones already. Oh we're wrong. Although the place hasnt even open yet, there is already people waiting outside by the door...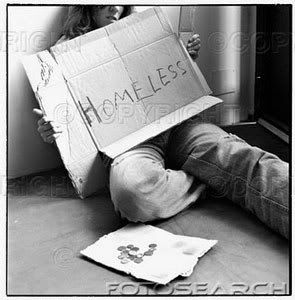 Okay, without the homeless cardboard and coins on the floor but the position of how my friend is sitting by the door can be somehow related to this picture. She was burned out, tired, so we asked her to sit closer to the entrance to block anyone from entering before us. We waited outside the door for an hour, together with a whole bunch of damn bloody kiasu people.
Can you imagine that?!!??!
That Jess is THAT rajin to be there
2 freaking HOURS
before the class starts!
And it worked! WE GOT THE BEST SEAT IN THE HOUSE!
Weeeeeeeeeeeeeeeeeeeeeeeeee........
The class lasted for 3 and a half hours. Half of my friends are already sleeping before the first session ended.
So much for getting the best seat in the house...